A Dark and Stormy Night
November 10th, 2013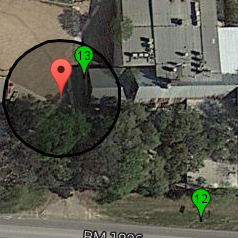 On the night of October 30 some parts of drought-ridden central Texas received more than 10 inches of rain. When coupled with the historic double-digit rainfall of just 2 1/2 weeks earlier, October, 2013 has hit the books as the rainiest month in recorded Austin history.
To put that into perspective, in just two nights we received more than half of our average annual rainfall (34 inches).
But the monsoon didn't stop the three intrepid Creative Mornings Quest-ers from voyaging out into the stormy night to claim their prize: a pleasant dinner at the Salt Lick BBQ restaurant with Quest Box inventor Mikal Hart.
At the end of last week's Creative Mornings talk in Austin, the crew picked the three winners randomly. Each winner was given a locked box programmed to open Wednesday night at 8:00pm, but only at the entryway to that famous Austin eatery.
The three winners were: Tara Stewart, Anthony Blatner, and Dani Pruitt.
Because Quest Designer can extract the complete record from a solved Quest Box, we are able to peek and see how our water-logged questors managed to find the Salt Lick.
First Tara and her crew, who seemed to think that pressing the button every 90 seconds was the best search algorithm. They used 31 of the 50 attempts allowed. (Good thing the destination wasn't 10 miles further west!)

Anthony's gang overshot a bit and ended up, um, in Dripping Springs before backtracking.

And finally Dani and her posse. This is a nice, minimalist approach: only 13 tries.

Fun! Thanks, everyone.